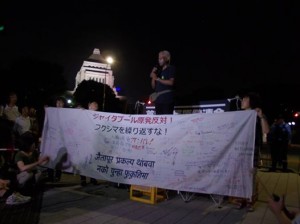 Am 25.Juli 2014 hat der indische Anti-Atom-Aktivist und Filmemacher Pradeep Indulkar bei einer Protestaktion vor dem japanische Parlamentsgebäude in Tokio Premier Abe aufgefordert, mit Indien keinen Atomhandelsvertrag abzuschließen:
My friends,
I am coming from India and specifically from Jaitapur, where the world's biggest nuclear power plant is proposed and thousands and thousands of farmers and fishermen are fighting against this proposed nuclear power plant. I appeal all of you Japanese friends to support the struggle of our farmers and fishermen. I also request Japanese Prime Minister Mr. Abe please do not sign Indo-Japan nuclear treaty that will harm our nature, life and livelihood of local people and create unrest and increase nuclear tension in Asia. (Facebook)
Ende August oder Anfang September wird der indische Premier Modi nach Japan reisen. Dort wird das japanisch-indische Atomhandelsabkommen wieder auf der Tagesordnung stehen. Ohne ein solches Abkommen können General Electric / Hitachi und Westinghouse / Toshiba keine Atomkraftwerke nach Indien liefern. Areva lässt Teile seiner EPR-Reaktoren von Japan Steel Works bzw. Mitsubishi Heavy Industries in Japan fertigen. Ohne ein Atom-Abkommen mit Japan können die geplanten AKWs in Mithi Virdi, Kovvada und Jaitapur nicht gebaut werden.
Bis Ende August reist Pradeep Indulkar mit seinem Film "High Power" durch Japan. Hier Termine und weitere Informationen.

Auch Kumar Sundaram von der CNDP startet Ende Juli eine  Informationsrundreise durch Japan.  Hier und hier die Details.
Zu Modis Japanreise: DiaNuke, India Times, Japan Times, Business Standard
Zum Hintergrund: Japan Times